There are many options for outdoor large screens. I believe everyone is dazzled to choose. So how to choose an outdoor advertising player? Today, outdoor advertising player manufacturers are here to teach you how to buy high-quality outdoor advertising players.
1. Protection level (waterproof, dustproof, burglarproof)
We all know that outdoor elements are changeable, and there will be very dramatic changes. The temperature varies greatly throughout the year. It will rain and wind, and the humidity level will change. It may add damage to the digital screen. Rainy days and direct sunlight will affect the visibility of the outdoor digital display. These are all things that need to be considered when placing outdoor LCD advertisements. They are waterproof and sunscreen. Even in a rainy day with heavy rain, it can operate without any impact!
2. Outdoor highlight LCD screen
Anyone who has used a laptop outdoors or watched TV outdoors knows that the brightness of the screen affects visibility regardless of whether the screen is in direct sunlight or even in the dark. An insufficient screen brightness and poor anti-reflective treatment can make the image difficult to see. If the image cannot be seen sufficiently, then the capital investment of the solution business of the outdoor highlight LCD outdoor advertising player is wasted. The outdoor advertising player has high-definition highlighting and adjustable features, making your advertisements have a beautiful visual enjoyment!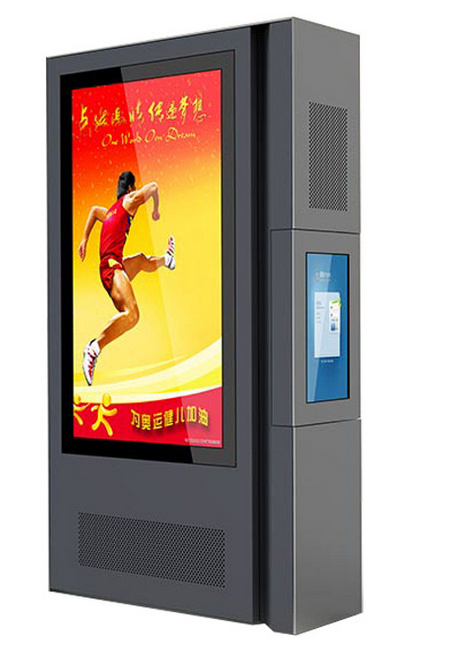 3. Automatic temperature control system
A light bulb will heat up after being used for a long time. In fact, this has a great impact on the life of the product. The outdoor advertising player uses a smart temperature control system to dissipate and heat. Outdoor advertising player manufacturers make the advertising player always have a constant temperature The role of the advertising player makes the service life of the advertising player longer! At present, there are two types of intelligent temperature control systems for outdoor advertising player manufacturers, air-conditioning heat dissipation and air cooling.
4. the choice of touch screen
When choosing an outdoor advertising player, the decorator should use the projected capacitive touch screen, because they are more efficient, do not require frequent calibration, and can establish an experience similar to what customers expect. An outstanding touch screen needs to be equipped with a high-quality software driver, which is the driving force on the back of the screen, which enables the screen to accurately and correctly detect contact input. The outdoor advertising player manufacturer's release system is a good digital signage driver software , Has been popular in many large-scale applications.
When choosing an outdoor advertising player, you must choose a better outdoor advertising player from these four aspects.